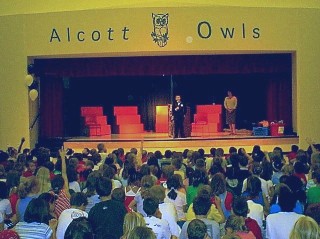 At Alcott Elem. in Columbus, OH
Author presentation and book signing
May 17th 2004

Travis Flores - Author
Michelle Ciappa - Illustrator
David Vance - GreenShag Design & Marketing
David Justus - Make-A-Wish

A Wish Comes True

Iím so excited, I can not wait!
My book will be out, around this date.
April is the month, yes in the spring,
Also the month I turn thirteen.
The months go by, the day nears
I am so anxious, but have no fears.

So many people involved with this
such as the terrific Make-A-Wish!
I have an illustrator, she is so cool,
her name is Michelle, her drawings rule!
David and Leslie, their job is so fine,
working for GreenShag Marketing & Design.

So, now you know about this awesome thing
Sparkey and I say thanks for reading!


By: Travis Flores
1/28/04
©2004 by Travis Flores





Travis has also written many heart warming inspirational poems.